Elopement in Rome: Romantic escape in the eternal city
Elope in Rome! Rome, the eternal city! Thinking of Rome, the Colosseum, the Pantheon, the Vatican, the Trevi Fountain, the walks in the center, spaghetti, the Italian spirit immediately come to mind. Rome is the city of romance, and if you love art, history, architecture and good food, it will be very easy to organize your elopement in Rome.
Like every big cities, Rome may be chaotic, but in the center of the Eternal City stands the luxurious Villa Agrippina Gran Meliá where Paola and Samuel have chosen to organize their elopement in Italy. The Gran Melia features elegant interiors, design rooms with views of the Vatican, Castel Sant'Angelo, Vicolo di Sant'Onofrio or the property's garden. This hotel is located on a hill on the banks of the Tevere in the very center of Rome. You will be pleasantly surprised.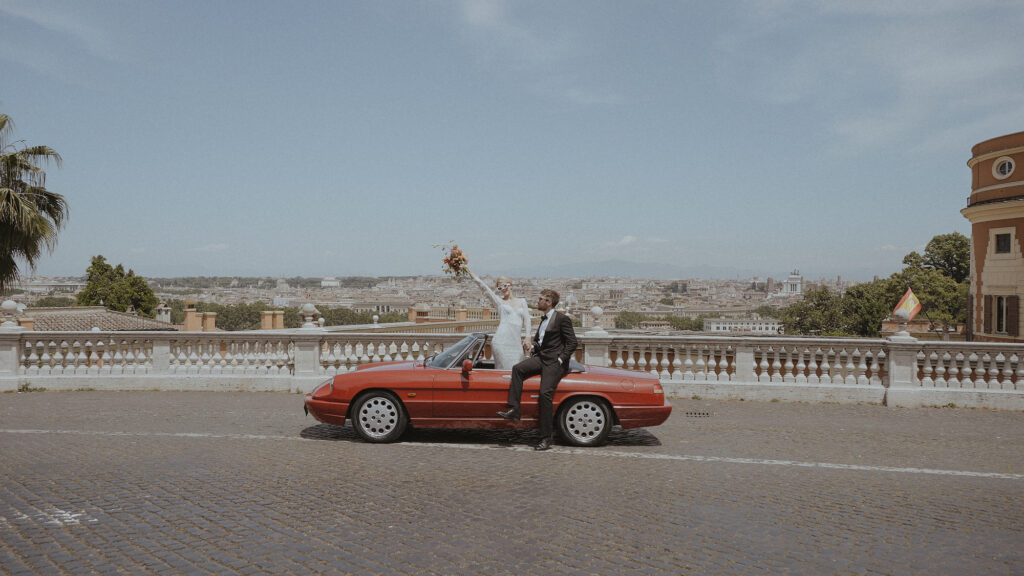 Rome means Dolce Vita
A romantic escape in Rome is definitely a unique experience and certainly the best idea to create unforgettable memories. An elopement in Rome will always be a unique and unrepeatable adventure.
For your special day you will need special suppliers. My advice for organizing your elope in Rome is to choose a Wedding Planner in Rome who will help you step by step in organizing your intimate event and who will direct you to the best suppliers that will suit you. Elopement videographer in Italy
Elope in Italy / Elopement in Rome / Elopement video
Elopement in Rome! Below you can watch the video of Paola & Samuel's romantic escape in Rome.
Enjoy!
Team
Wedding Planner & Designer: Carlotta Pomponi
Videographers: Sergio Eblo, Modestino Iavarone
Photographer: Katerina Kutas
Venue: Villa Agrippina, Gran Melia
Concept styling and decor: Paola Maly
MUAH: Ruslana Regi
Furniture rental and rents: Fabio Bellotti
Floral designer: Girafiore Marcello Polinesi
Bridal Accessories: Decolove Atelier
Shoes: Bellabelle shoes via Demas
Dress: Bencivenga Alta Sartoria
Fine rings: Taya gioielli
Chandelier: G&G party service
Calligraphy & Stationery: Calligraphy Rome
Cake Design: DolceAlice
Perfumes: La mia casa nel vento
Bridal lingerie: Julia Stefanello Atelier
Tableset rentals: International Catering
Light design: Roma Party Service
Are you planning your romantic escape and elope in Italy or abroad? Write me about your projects.