WEDDING AWARDS 2020
2021! The year opens in the best possible way, with an extraordinary achievement in the WEVA Wedding Awards. Such an important award at the beginning of the year, after such a difficult period, brings a breath of positivity. 2020 has been a really tough year, on all fronts, and especially for the wedding industry. I was a bit hesitant at first to participate in the Wedding Videographer Awards, however, for the third year in a row I felt the need to do so, because this job always needs new stimuli.
Comparing yourself to national and international wedding videographers and being judged by professionals is a great way to test yourself, a way of sharing and growing over time.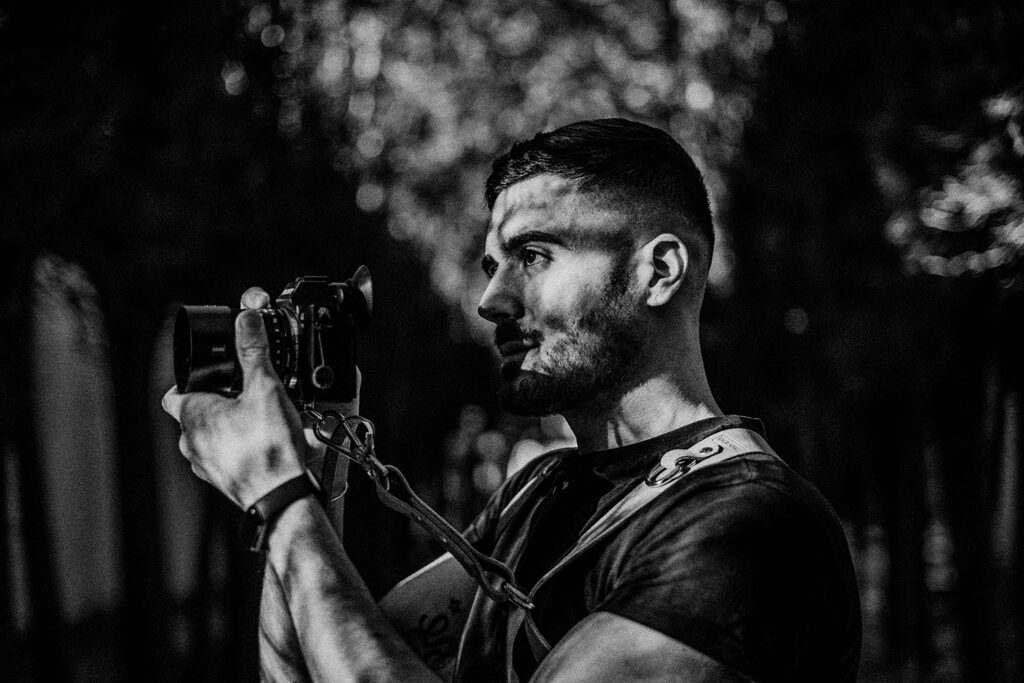 Never find more right words! With commitment and determination in a few years I have achieved goals that I would never have believed possible in my work as a wedding videographer in Italy.
ITALIANS WEDDING AWARDS / BEST VIDEO EDITOR / BEST CAMERAMAN / BEST VIDEOGRAPHER IN ITALY
WEVA – Worldwide Event Videographers Association is a professional community of Wedding Videographers from around the world. With over 5,311 Videographers present, WEVA is one of the world's leading portals dedicated to wedding video. First of all, every year the Italians Wedding Videographer Awards and the International Award are presented, a real opportunity for comparison. Getting good positions in these contests is already enough, but to get on the podium and win is indescribable. So, on the evening of February 13, 2021 the winners in all categories of the national and international contests of 2020 were announced.
Below are the positions I obtained in the 3 main categories of the National Award:
WEVA Italian Award

1st place "Best Cameraman"
1st place "Best Video Editor"
3rd place "Best Videographer"
My positions in the other categories of the Italian Wedding Awards:

3rd place "Best Pilot"
4th place "Best Sound Producer"
4th place "Best Wedding Highlights"
5th place "Best Engagement"
4th INTERNATIONAL BEST VIDEOGRAPHER / INTERNATIONAL WEDDING VIDEOGRAPHER AWARDS
Winning two of the main categories of the Italian Wedding Awards and being named 3rd Best Italian Videographer is indescribable. But, above all, to be considered one of the best wedding videographer in the world is an immense satisfaction that I'll carry within me forever.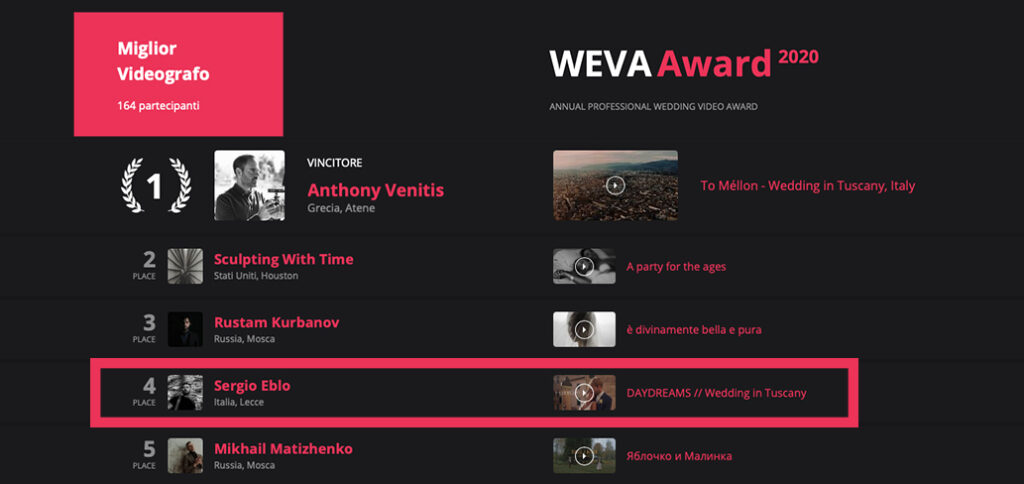 Getting to be ranked 4th Best Videographer in the World, seeing my name among the big names in world videography is something that cannot be put into words. I am honored with these awards that every wedding videographer in the world wishes to win one day.
When I started to create wedding videos I never had such high hopes, or maybe I did, but for modesty's sake, I never exposed myself by always keeping my ambitions to myself.
WEVA INTERNATIONAL AWARD
The other positions reached in the WEVA International Award 2020

4th place "Best Wedding Highlights"
5th place "Best Cameraman"
5th place "Best Pilot"
5th place "Best Walk"
AMBITION / COMPARISON / GROWTH
Constant growth in the Wedding Videographer career is important. I believe there is a need for ambition and a desire to put yourself out there. To be on the podium in Italian award and above all to be named one of the best videographers in the world is something that those who do this job should always dream and pursue. On the other hand, who wouldn't want to reach such high levels one day.
I think back to all the way I've come so far, to all the moments when I doubted myself, but at the mere thought of not making it, I always looked for and found ways to pull myself up and do my best. Therefore, the determination and commitment I put into achieving my ambitions can be summed up in the fantistic results of the 2020 Wedding Awards.

WEDDING AWARDS from 2018 to date
I start in 2018 to participate in my first contest between wedding videographers to achieve already a good result for morale and start to believe in something.
2nd place "Best Debut of the year" – WEVA Italian Award 2018
In 2019 maybe I start to believe in myself more, I want to accomplish big things and continuously grow as a Wedding Videographer in Italy. I dedicate myself more assiduously to study, following several workshops and committing to my goals. This is where even more gratifying recognition starts to come not only from the Italian Award, but also internationally.
WEVA Italian Award 2019

2nd place "Best Pilot"
3rd place "Best Cameraman"
4th place "Best Videographer"
4th place "Best SDE maker"
5th place "Best Wedding Highlights"
5th place "Best Walk"
WEVA International Award 2019

4th place "Best Young Professional"
5th place "Best Wedding Highlights"
Winner Winter Edition – International Golden Heart Awards 2019

An anomalous year, but, not for this reason, negative
2020 is coming, and it brings with it a global pandemic. The wedding industry, among others, suffers a lot. There is negativity but also the desire to restart. Therefore, I spend the first lockdown honing the technique, thinking more about my professional training and studying more intensely various strengths to make my wedding videos better and better.
2020 was a sabbatical year, I've had the time and opportunity to set new goals and prepare myself in achieving them. Even in this strange year I participate in the WEVA Wedding Videographer Awards achieving some surprising results.
In addition, I receive another important and unexpected recognition
Winner ZankYou ZIWA Awards 2020 – VIDEO category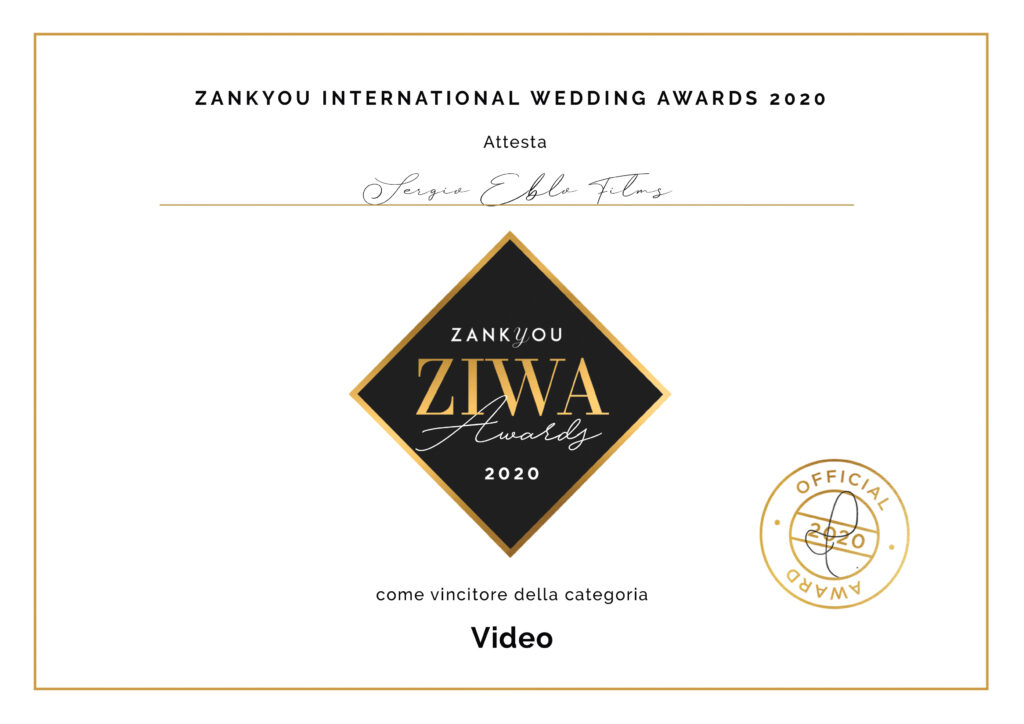 3th BEST ITALIAN VIDEOGRAPHER /
4th BEST VIDEOGRAPHER IN THE WORLD
The road that led me to be considered one of the best videographers in the world, and among the best videographers in Italy, was long and not without difficulty. However, now it will be even more so because this gives the strength and positivity to improve more and more and set new goals, continuing to achieve my ambitions.
I am honored to be 4th Best Videographer in the world, 3rd Best Italian Videographer, Best Cameraman and Best Video Editor in Italy!
READ MORE ABOUT THE WEDDING AWARDS
Winning awards is hard, keeping the title up will be even harder.
THANKS
In conclusion, I would like to thank all the people who have allowed me and will allow me to be a part of their important events, thanking them for the trust they have given and will give me.
I thank every person who trusts and believes in me every day in a transparent and true way.
Thanks to my better half Ulya for the support, strength and determination that she tirelessly manages to give me during this long journey.
I dedicate these Wedding Videographer Awards to you ♥.
My family who never fail to support me in anything I want to accomplish.
I would like to thank Modestino Iavarone MoodVideomaking who is also among the best wedding videographers. First of all a great friend, then a respected colleague, who accompanied me during this victory and with whom I feel I must share these prestigious awards.
DESTINATION WEDDING IN ITALY / WEDDING VIDEOGRAPHER IN PUGLIA / WEDDING VIDEOGRAPHER IN TUSCANY / WEDDING IN LAKE COMO / WEDDING IN AMALFI COAST / DESTINATION WEDDING VIDEOGRAPHER IN ITALY / BEST VIDEOGRAPHER ITALY / BEST WEDDING VIDEO IN ITALY